For your Thai fiancée of Australian Nationals you can now apply for a fiancé visa to be able to go to Australia and get married Down Under with their Australian fiancée. After getting married within the validity period of the Australian fiancée visa your Thai wife can now extend her stay in Australia by adjusting her immigration status into that of a temporary spouse. This allows your Thai wife to stay in Australia indefinitely. Read the rest of the page about an Australian visa for a Thai girlfriend.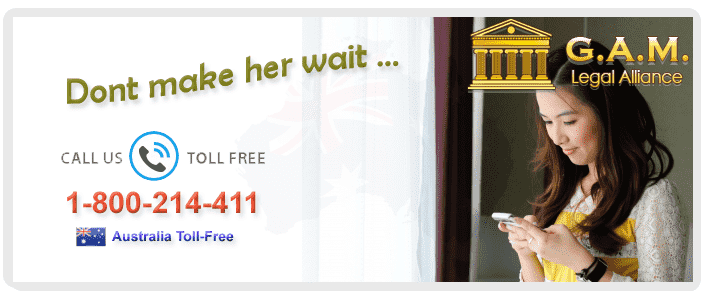 Australian Fiancée Visa Requirements:
In order to obtain an Australian Fiancée Visa you need to meet the following requirements as listed below. As a Thai national she needs to have the following visa documents for the visa–
– She is single or has a free to marry certificate (See: Marriage Registration)
– She has no criminal record and has a Police Clearance Certificate issued in Bangkok
– She is in good health and has a Health Certificate
– She can show proof of a genuine relationship with you the Australian fiancée
As an Australian and sponsor of her fiancée visa you need to meet the following requirements for the Australian fiancée visa. These requirements are as follows:
– You are an Australian National or Australian PR holder
– You can show proof of accommodation in Australia
– You can show proof of financial capability (employment)
– You can show proof of a genuine relationship
– You can show that you are single
Below we have listed the Australian visa process and also what we offer at GAM in both Phuket and Bangkok. You can call us from Australia toll-free for more information and assistance.
Australian Fiancée Visa Process:
The process takes about 8-12 months to complete so you need to ensure that you have all the documents which are needed. If there are any documents short then it will take longer. Speak to us today in Bangkok or Phuket for assistance. The visa process is as follows:
– Both you and your Thai fiancée should collect the required visa documents
– Your Thai fiancée must have a medical certificate
– Your Thai fiancée need a Police Clearance Certificate
– All documents must be submitted to the Australian embassy
– Your Thai fiancée must attend the scheduled interview at the Embassy
  (Interview at the Embassy ff requested by the Consulate Officer)
The embassy will contact the applicant for any additional supporting documents. If none, then it's a wait-and-see scenario afterwards.
Australian Fiancé Visa Package:
We will be delighted to assist you with your fiancé visa application to Australia through our comprehensive package as follows:
    We Offer:
Consultation
Comprehensive list of the required documents from the visa applicant
Comprehensive list of the required documents from the visa sponsor
Assistance with collecting the required documents
Assistance with obtaining a police report for the fiancée
Assistance with medical check-up for the fiancée
Professional Preparation of the visa application papers and supporting documents
Interview training
Submission of the visa application to the VFS
Update on the developments and results of the visa application
 Your dream of bringing your Thai fiancé to settle with you in Australia is a life time commitment and therefore, demands very careful planning on your part. To avoid the unnecessary immigration hassles which do occur for the Australian visa application, it's best to enlist the services of a good law firm to assist you.
G.A.M. Legal Alliance has a team of foreign immigration staff specializing in Australian Visas such as Family Visit Visa, Student visa, Fiancé Visa or Spouse Visa. Please contact us today to avail our free consultation service.
The information contained in our website is for general information purposes only and does not constitute legal advice. For further information, please contact us.