If you are married to a Thai then the property rights are defined by the Civil and Commercial Code of Thailand. These laws had mainly been written for Thai nationals so there are additional issues when it is a Thai and a foreigner when it comes to land in Thailand. The rights and ownership of property has been explained below. Please note that a foreigner can hold the title deed of his condo unit in Thailand in his/her name. This is on the condition that there is no more than 49% ownership of the units in the building in the name of foreigners.
Property Rights in Marriage

Any land bought in Thailand such as land or a house cannot be held jointly by you and your Thai wife. Any land acquired during marriage cannot be marital assets (Sin Somros) but personal assets (Sin Suan Tua) as defined by Section 1471 and 1472 of the Civil and Commercial Code. This will occur at the Land Office where the property will be registered in her name and you would have to sign a document to confirm that the property belongs to her and is not a joint marital asset but a personal asset of your Thai wife.
Property Rights in a Thai Marriage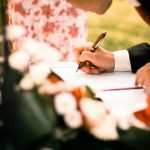 The problem is that this gives your wife full management rights over the property and she can sell, mortgage or otherwise encumber the property to her liking without the need for your consent. Property rights in marriage can be complicated. This has over the years created enormous problems in Thailand where the wife had used the property as a guarantee for debts. Before you buy any property in Thailand is always best to speak to an attorney about the property options you have and how best to protect your rights. This can be through a prenuptial agreement, registering a usufruct or registering a superficies against the property as discussed elsewhere on this website.
Property Options
Property options may be:
Place the land in your Thai wife's name and build a house on the property and register a superficies over the property for the house. You now jointly own the house but she owns the land;
Register a usufruct over the property giving you the right to live in the property so in the event of a divorce you will still have the right to live in the house. It's very difficult to sell a property with someone living in it under a usufruct;
Speak to your lawyer about a prenuptial agreement before you register your marriage in Thailand and start buying property. Note that the prenuptial agreement needs to be handed in at the same time as your marriage registration application;
If you have any questions about property in Thailand and want to know more about property rights in marriage, then call us today toll-free or speak to us on live chat. You can also walk into our offices in Bangkok for a detailed and personal discussion about your marriage and property options in Thailand. See the rest of this website for more information about marriage, divorce and property matters in Thailand.
Call us today for assistance!