Drafting your Last Will & Testament in Thailand can be complex. If you are living in Thailand then you need to consider a will for a number of reasons. Today the living will is very popular and for an expat in a foreign country this becomes very important for reasons which you might not have thought of yet. Even if you are not married it has become vitally important while abroad to consider an up to date Last Will & Testament.
Last Will
With more people retiring in Thailand and many getting married in the Kingdom the last will and testament becomes more important. Many people contest wills as they had not been updated and this creates problems long after you death. If you have a condo in Thailand and one in London or back home in Australia you need to consider having 2 wills. The last will and testament in your home country for your assets there and one in Thailand for all your assets here. It makes executing the will much easier and cheaper.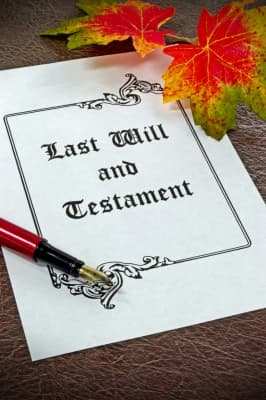 For your Thai will you would be best served by appointing an executor in your estate in Thailand and what has become the norm to appoint two people you trust. You can appoint the head of a law firm in Thailand as one and a family member you trust as another. This is entirely up to you as you need to consider who you can trust after your death as money creates its own problems.
Note that the local will and testament will fall under Thai law. If you do not have a last will and testament in Thailand the estate goes 50% to your spouse and children the residue in equal share to the children. If you have no relatives in Thailand then the assets will go to the Thai government.
If you own property in Thailand as many do in the name of a company then the shares of the business would form
part of the will and not normally the property itself. This in itself creates its own problems. If you have lease agreements to assets then you also need to ensure that there are succession clauses in the agreement. If there are none the lease agreement will be terminated on your death. This would not only be for lease agreements but also superficies over property which you might have. It is always best to take proper legal advice before you draft your will.
Last Will & Testament
Drafting your Last Will & Testament in Thailand is exampled further. The living will is become very popular in Thailand. This allows you to appoint people over you estate in the event that you are incapacitated or cannot make decisions as you are not mentally fit. This is very common after accidents in Thailand. You can also in this living will state that should you become very ill that you should not be resuscitated. This must however comply with the Ministerial Regulations that were adopted in 2010 as it is recognised in Thai law.
Once the will has been drafted it needs to be translated into Thai. Speak to our lawyers about your last will and testament and do not leave it until it is too late. Call us today toll-free or walk into our offices in Phuket or in Bangkok for further assistance.
The information contained on our website is for general information purposes only and does not constitute legal advice. For further information, please contact us.
Other Content
Last Will Frequently asked questions
---

---
Yes you can draft your own will however it only takes a single error to leave your family with a long drawn out process after your death as the Courts would have to make a ruling on it. Always have your last will and testament professional drafted in Thailand by a lawyer.
How do you write a will in Thailand?
There are a number of websites in Thailand with off the shelf last will and testament templates. They may however not be appropriate for you as the template only covers the most basic issues when it comes to death. Expats however always have more complex issues with property and loved ones at home.
How much does it cost to get a will drafted?
The cost of drafting a will in Thailand is going to vary based on how complex the will is. If you have property, children locally and abroad then it will become more complex. You will need to take proper legal advice on property abroad when drafting a will as there are other options.
What should you not put in a will?
You cannot place illegal or immoral conditions to inherit in a will. This applies to Thailand as much as it does to other countries.You may take legal advice on this if you are not certain as the courts will strike down these conditions if they think it is illegal or immoral.
Why should you use a lawyer to write your will?
You should always allow a qualified lawyer to draft your last will. Errors or omissions can be costly after you have died and the legal costs to have the courts make an order will fall on your descendants. Always have a proper will drafted that will be accepted by the State.
---