Yes we are discussing how to retire in Buri Ram. Many expatriates who are married to a Thai have moved to Buri Ram to retire. There are a number of options in Buri Ram as many decide to rent or build a house rather than rent or buy an apartment in the city center. Buri Ram is far from Pattaya or Bangkok however the inter city buses in Thailand are very good at cover the outlaying cities in Thailand. Buri Ram is close to Nakhon Ratchasima. If you want to retire in Thailand, then read on.
Retire in Buri Ram
Property in Buri Ram
The average rent in Buri Ram is pretty low compared to Pattaya or Bangkok where you would be looking at about $130 per month for a low end apartment in the city while it is about $100 per month outside of the city. Many however do build a house in Buri Ram in the name of their Thai wife. As you are aware that foreigners can't own land generally speaking. You can register a usufruct over the property or a superficies where you Thai wife owns the land but you own the buildings on the property. This way you will always have a right of habitation after a divorce. Building is a bit more difficult as you will require a building permit in Buri Ram and you will need to speak to a lawyer about this. Rents are very cheap in the rural areas in Thailand and even renting a house might set you back only about $3-400 per month.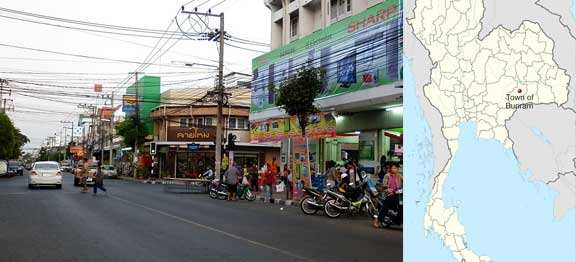 Retirement Visa in Buri Ram
If you retire in Buri Ram, then you are the option of a retirement visa for Thailand or a marriage visa for Thailand. Note that if you are a Muslim then a traditional Muslim marriage is not enough if the marriage has not been registered. The retirement visa requires a Thai bank balance of 800,000THB or a letter from your Embassy showing monthly retirement funds of 65,000THB per month. The marriage visa needs 400,000 THB in a Thai bank account or an income of 35,000THB per month. Speak to an immigration attorney about these requirements.
Cost of Living in Buri Ram
The cost of living in Buri Ram would be on par with the cost of living in Nakhon Ratchasima or other more rural cities and provinces in Thailand. The cost of living as seen below is very similar to other cities in Thailand.
| | |
| --- | --- |
| Meal, Inexpensive Restaurant | 1.67 $ |
| Meal for 2 People, Mid-range Restaurant, Three-course | 10.65 $ |
| McMeal at McDonalds (or Equivalent Combo Meal) | 6.09 $ |
| Domestic Beer (0.5 liter draught) | 1.67 $ |
| Imported Beer (0.33 liter bottle) | 2.13 $ |
| Cappuccino (regular) | 1.14 $ |
| Coke/Pepsi (0.33 liter bottle) | 0.46 $ |
| Water (0.33 liter bottle) | 0.24 $ |
You can see that the cost of living in Buri Ram is pretty low and that even on a small pension you are able to live in the area. This is one of the advantages when you retire in Buri Ram. You can visit the area and see what type of properties are available but investment property in the area would be very difficult. Those types of properties are mainly for areas such as Bangkok and Pattaya.